Women in Music: Challenges, Opportunities, Community. Panel discussion led by Almaz Yebio.

---
For information in English, see below.
INFORMATION


IMPRA Jazz Festival är mycket glada över att kunna komplettera festivalens line-up med ett panelsamtal som arrangeras i samarbete med Women in Jazz. Det kommer att bli ett spännande samtal mellan Jas Kayser, Maria Faust och Selen Özan modererat av Almaz Yebio där de pratar om hur det är att vara kvinna i dagens musikindustri och hur de tror att framtiden kommer se ut.

Panelsamtalet kommer bli en av festivalens höjdpunkter och startar kl. 17:00. Det kommer finnas möjlighet att se panelsamtalet digitalt via Facebook eller live på Fasching i Stockholm där festivalen hålls.


DATUM: 28 augusti 2021

TID: 17:00

PLATS: Fasching, Stockholm och streaming via Facebook

Kungsgatan 63, 111 22 Stockholm


BILJETTER

Festivalen är gratis för alla. Först till kvarn till dörren.


FACEBOOK EVENEMANG
Panelsamtal: Women in Music: Challenges, Opportunities, Community.
IMPRA Jazz Festival
---
INFORMATION

As a part of IMPRA Jazz Festival, IMPRA and Women in Jazz invite you to a panel discussion. Moderator, Almaz Yebio, will together with Jas Kayser, Maria Faust and Selen Özan discuss what it's like to be women in the music industry today and what their thoughts on the future might be.

The panel discussion will be one of the festival's highlights and will start at 17:00. It will be possible to see the panel discussion online through this Facebook event or live at Fasching in Stockholm, where the festival is held.


DATE: 28 August 2021

TIME: 17:00

LOCATION: Fasching, Stockholm and streaming through Facebook

Kungsgatan 63, 111 22 Stockholm


TICKET INFORMATION
The event is free for everyone. First come, first served.


FACEBOOK EVENTS
Panel Discussion: Women in Music: Challenges, Opportunities, Community.
IMPRA Jazz Festival
---
PARTICIPANTS

Almaz Yebio is a singer, composer, conductor and senior lecturer in music. She has played and toured with her own and other projects for over 30 years. Representation, an equal stage and diversity in different aspects of the professional music industry are topics that have engaged her for decades now. Almaz has previously been the chairwoman of IMPRA and is very curious to meet the panelists at IMPRA Jazz Festival.
---
Jas Kayser is 24-year-old drummer, composer, band leader and Paiste Cymbals and Natal Drums artist from the UK currently based between London and Panama City.
Jas's most recent release is her sultry new
Debut EP Unforced Rhythm of Grace
, available now on all platforms. This release has gained attention and support from London's impressive jazz scene such as Jamie Cullum, BBC 3, Jazz FM and Jazzwise.
Jas completed her undergraduate and masters degrees at Berklee College of Music whilst studying and playing alongside mentors such as ‪‪Terri Lyne Carrington, Danilo Perez, Ralph Peterson‬ and Neal Smith. During this time Jas began to explore the common grounds between Jazz and Afro-beat which led to her creating her original sound and compositions.
Jas has featured in bands with leading British lights Nubya Garcia, Ashley Henry and Jorja Smith as well as American drummer Ralph Peterson's Big Band and had a starring role on drums alongside Lenny Kravitz in the official video for his song Low.
Jas has also presented her original band at Jazz Re:Fest 2020 Online, London Jazz Festival 2019, RISE concert in Boston supporting Terri Lyne Carrington and Panama Jazz Festival for the past 2 years.
Additionally she has also played with various bands and artists like Jacques Schwartz-Bart, Donald Harrison in the Ralph Peterson Big Band and Luciana Souza‬‬ at venues around the US such as Scullers Jazz Club, Rockwood Music Hall and Newport Jazz Festival, among others.
SELEN ÖZAN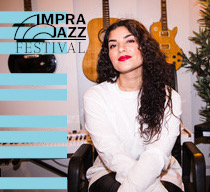 Music Producer and songwriter Selen Özan was the first female producer to get nominated in the category "Rookie Songwriter/Producer '' for the prestigious Denniz Pop Awards in 2019. She's currently working as an independent producer, songwriter and arranger with Swedish pop artists as well as run the separatist studio collective Oda Studios in Stockholm of which she is also the co-founder.
Selen have throughout the years achieved multiple big prizes and scholarships for her compositions and has a bachelor's degree in Jazz Singing and a masters in Music Production. In addition to all of this she's engaged in equality issues in the music industry, leads workshops/lectures, is a board member in SKAP and has a seat in the jury group for Musikförläggarnas award 2020 etc.
Selen is behind productions like Miriam Bryant's "Du Med Dig", "Nån av oss" as well as Veronica Maggio's "20 Questions" and worked with the artist Marina Abramovic during spring 2017 with the performance "The Cleaner".
---
12 years, 11 albums, a jillion performances, some celebrated successes, fair amount of awards, a few fantastic failures, infinite weirdness, and 144 periods later, Maria Faust revisits her expansive (and expensive) songbook, created between 2008 and 2020.
Charismatic and eccentric composer and saxophonist Maria Faust (EST) coined the term "menstrual jazz," an unpredictable genre of music that ebbs and flows with her predictably unpredictable hormonal cycle. Each song and arrangement, each band and concert, each day and month and year bring with them new adventures and challenges.
Faust has often used memory analysis as a tool and source of inspiration in creating her music. While composing the material for the first Maria Faust Sacrum Facere album, she focused on collective memory, including traditions and folklore. ORGAN is inspired by the composer's own personal body memory. It is a celebration of the human body and life as a mystical cathedral with soaring ceilings, altars, statues, memorials, scripts... and organs, around which everything is centered. Depending on the activity, the room and body can celebrate, dance, sing, mourn, weep, and shake. On ORGAN, Faust pulled listeners into a new, adventurous individual-and-collective reflection on the journey and growth the composer and band have experienced in the years since 2014. It's music that both inspires and quenches thirst for new experiences, while respectfully honoring the passion with which we all have lived.
---